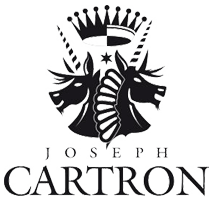 Joseph Cartron
The Joseph Cartron House is a family business since 1882, with roots deep in Nuits-Saint-Georges, in the heart of the Burgundy's grand cru vineyards. For well over a century, the Joseph Cartron family company has developed fruit liqueurs and distilled traditional eaux-de-vie (fruit brandies) of the highest quality, while keeping up with modern technology. Preserving and enhancing the original flavor of the fruits is the skill of a renowned distiller. 

This results from experience and rigorous care, right from the start of the harvest. The fruit must have a strong aromatic content; this can really only be found with the traditional varieties and because every harvest is different, each production involves immense care.
---
Creme de Cassis de Bourgogne (Double Creme)
Liqueur Creme de Cassis de Bourgogne "Double Creme" is created from select black currant of different varieties growing in Burgundy. The berries are collected at the peak of maturity, in July, enabling the most fully disclose their aroma and flavor potential. For the production of liquor tank 2/3 filled with berries and poured alcohol. Persisting held at room temperature for 4-5 weeks to obtain the best result. Before filtering the mixture is added to a small amount of infusion, mixed with sugar, held a double maceration, which gives the drink an extraordinary harmony. As a result of this technology is born first-class liquor with natural aromas and flavors of black currant.
| | |
| --- | --- |
| Color | Liquor dense red-garnet color with beautiful violet reflections. |
| Aroma | In an intense aroma dominated by notes of liqueur cassis. |
| Taste | Liquor is endowed with full-bodied, well-balanced, rounded taste with notes of black currant, velvety tannins and a long finish clean. |
| Gastronomy | Liquor is beautiful in its pure form, ice, and is also excellent in cocktails. |