Amrut
Amrut Distillery was established in 1948 by Shri J.N. Radhakrishna, just a few months after India declared its independence, and build in Bangalore, in the southern part of the country. The family run business produces a whisky in the purest Scottish tradition and proudly proclaims its Indian roots. In 2004, Amrut became the first distillery in history to produce the 100% Indian Single Malt.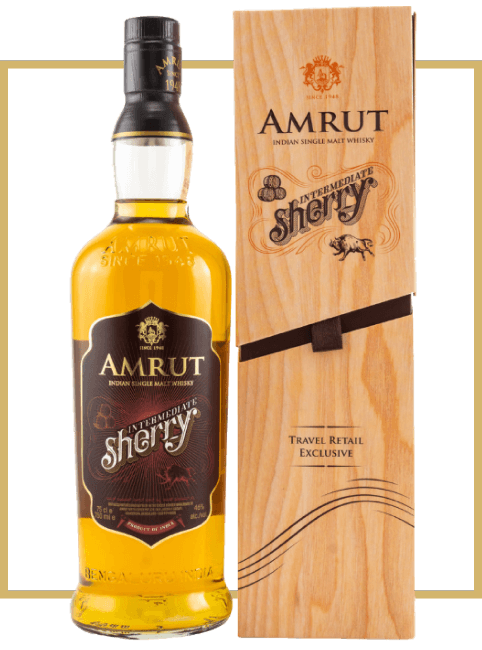 ---
Amrut Intermediate Sherry 57.1%
Named intermediate for the fact that the whisky started its maturation in Bourbon casks, went into Sherry, then back into Bourbon to complete its maturation.
| | |
| --- | --- |
| Nose | Instead of the usual biscuit aroma, we now get moist cake which is it fruity and spicy!! Love the freshly waxed oak floor, too. |
| Taste | Cracking delivery and entirely unique in form. The structure is decidedly oak-based, but acts as no more than a skeleton from which the juicy sultana and spices drape. Salivating, too, as the barley kicks in powerfully. But the liquorice-orangey-honeycomb bourbon theme quietly shapes the flavour profile; the spices pulse and glow. |
| Finish | Quite a chunk of natural caramel quietens the more exuberant characteristics; long and elegant. |
*Only available at Duty Free and Travel Retail