The Botanist
The Botanist is a small-batch, artisanal Islay gin made by Bruichladdich Distillery. It is the only gin made on Islay and is distinctive for its augmentation of the nine classical gin aromatics with a further 22 locally picked wild Islay botanicals. It is these botanicals - and the two local botanists who collect them - that inspire its name.
The 22 hand-foraged Islay botanicals
Nine classic gin botanicals as well as: Apple mint, chamomile, creeping thistle, downy birch, elder, gorse, hawthorn, heather, juniper, lady's bedstraw, lemonbalm, meadowsweet, mugwort, redclover, spearmint, sweet cicely, bog myrtle, tansy, watermint, white clover, wild thyme and wood sage.
The Distillation
The distillation of The Botanist is a slow, slow process. Only the purest and lightest vapours turn through 90 degrees and enter the lyne arm to reach the casket containing the delicate Islay botanicals.
The final stage of the journey is down the long shell tube condenser and into The Botanist's own unique spirit safe, from which the stillman takes the samples to determine the precious middle cut.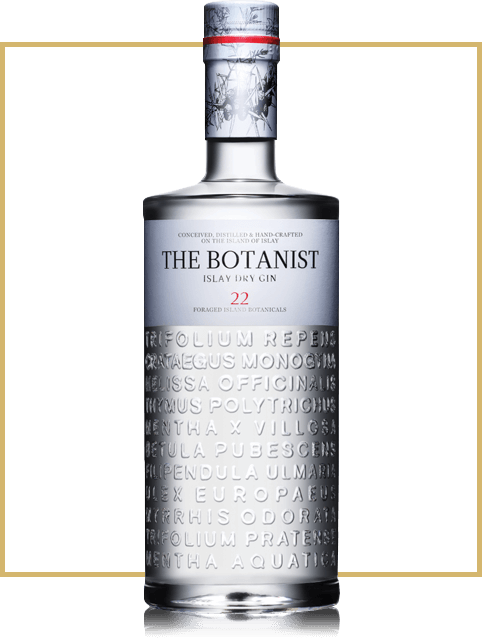 ---
The Botanist Islay Dry Gin
A Hebridean gin made from 9 classic gin botanicals, augmented with 22 'foraged' botanicals, typical to the shores,bogs and hills of the Isle of Islay. Made in a copper still called Ugly Betty - the world's only Lomond pot still - this gin is satin smooth and heralded as a roller coaster, botanical odyssey in a glass.
The taste rich and mellow, cool on entry but developing into a starburst of flavours from the unprecedented number of botanicals.
| | |
| --- | --- |
| Color | Quicksilver |
| Nose | Sweet delicate menthol, aniseed undertones followed by a bouquet of Hebridean flowers. |
| Palate | Menthol to begin with then citrus develops to a floral starburst |
| Finish | Long with delicate spice |
---